Astronomy Day
Saturday, May 16, 2015 · 3 pm – 11 pm
Sky Meadows State Park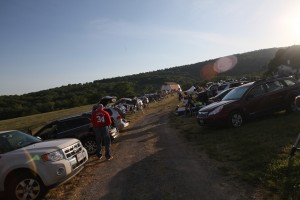 Join NOVAC for Astronomy Day at Sky Meadows State Park on Saturday, May 16, 2015. Astronomy Day is a national event usually held in or around April to promote and share amateur astronomy. Come out at 3 pm to observe the Sun! Stay until nightfall to see some planets and deep sky objects! Entrance to the park ends at 9 pm no exceptions!
Enjoy the wonderful views of the landscape and night sky from the flanks of the Blue Ridge Mountains.  The program features solar observing through safe filters, telescopes to look at and look through when the stars come out, and presentations about astronomy and the night sky.
The presentation portion is rain or shine (we'll have a tent set up). Presentations cover a range of topics in amateur and professional astronomy and are generally appropriate for all ages. Younger children might appreciate our field events, though, which are more interactive and hands-on.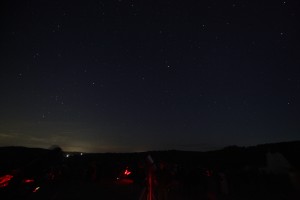 You don't need any astronomy experience or equipment at all to enjoy Astronomy Day. If you own a pair of binoculars, go ahead and bring them; they're great for looking at the night sky. There will be no shortage of optics of all sizes and shapes offering views of everything overhead. Feel free to walk around and enjoy the sights through the equipment on display. Just about any telescope owner will be glad to let you have a look, but please ask the owner before using.
Sky Meadows State Park charges $5 per vehicle for parking, but the event itself is completely free. NOVAC members are admitted free upon presentation of a membership card (available from the members-only section of the website). If you're not a member but would like to become one, you can join the club online and print your membership card in only a few minutes.
Questions? Feel free to email us!
Schedule
Presentations:
| Time | Presenter | Topic |
| --- | --- | --- |
| 4:00 – 4:45 pm: | Peter Gural | Amateur Contributions to Meteor Science |
| 5:00 – 6:00 pm: | Paul Hueper | Previewing New Horizons: Will Pluto be like Triton? |
| 6:15 – 6:30 pm: | Chad Ellington | Occultations: Introduction, Obtaining Predictions, and Observation |
| 7:00 – 8:00 pm: | Tom Jones | Beyond Earth: America's Future in Space |
Field Activities:
| Time | Event |
| --- | --- |
| 3:00 – 7:00 pm: | Solar Observing |
| 4:00 – 6:00 pm: | Face Painting |
| 4:00 – 5:00 pm: | Building an Astrolabe |
| 5:00 – 6:00 pm: | The Human Orrery |
| 6:00 – 6:45 pm: | Astronomy Bingo |
| ~ 8:15 pm: | Sunset |
| 8:30 – 9:00 pm: | Sky Tour |
| 8:30 – 11:00 pm: | Night Observing |
What you should know before you visit
Dress warmly! Evening temperatures can be chilly. Check the forecast for The Plains, VA before you start out to get an idea of what the weather will be like. Bringing a few layers to add as the night goes on is a great strategy.
Bring along water to keep hydrated. This is good practice no matter what the weather is like, but especially on hot Virginia days.
If you bring a flashlight, cover it in red cellophane – the darker the better. Astronomers use red lights because of a phenomenon called "dark adaptation" – your eyes slowly increase in sensitivity to light in dark environments, but very quickly lose it when exposed to white light. Red lights (specifically those above a certain wavelength) don't cause this, and thus we can use them to illuminate our path or charts.
Children are welcome, of course, but please help us to encourage them to be careful around the astronomical equipment.
Please refrain from smoking around the telescopes. Telescope mirrors (and some of the owners) are sensitive to cigarette smoke.
Pets, except assistance dogs, are not permitted on the observing field.
We look forward to seeing you on May 16!
Didn't find any related posts :(