Crockett Park played host to the 2022 NOVAC Star Gaze astronomy and observing event. Clear weather prevailed with some nice views of the moonless night. Thanks to Sandeep Jain for all the upfront planning and to all our NOVAC volunteers!
Cars lined up early for the start of Star Gaze.
David Werth and Marcy Crane kept the younger astronomers fully entertained with all the wizardry you'd expect!
Eithne McDonald from Columbia University provided visitors to Star Gaze with short talks describing NASA's exciting Lucy mission – the first space mission to explore the population of small bodies known as the Trojans. These primitive bodies hold vital clues to deciphering the history of our Solar System and the origins of organic materials on Earth. Thanks Eithne for bringing your expertise to Star Gaze and for sharing so much detail on this exciting NASA mission.
Many thanks too to Corey Dallmeyer from the Rappahannock Astronomy club for demonstrating his PVS 14 night vision tube on some popular targets such as the Trifid and Omega Nebulas. What incredible views!
You can read more about Corey's experience with this accessory on his web site:
https://telescopeboss.com/everything-i-use-for-night-vision-astronomy/
Cell phone, single image snaps using Corey's RVS 14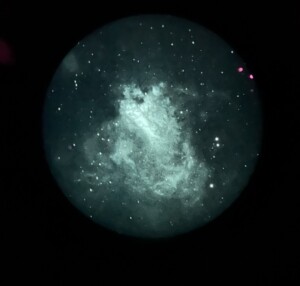 Thanks to everyone who helped and especially to Sandeep Jain for all the planning and execution. See you at Astronomy Day in May 2023!