Dec
12
Sun
2021
December 12 – Public Monthly Meeting – How to Optimize your Astrophotography Setup

@ Online via Google Meet
Dec 12 @ 7:30 pm – 9:30 pm
How to Optimize your Astrophotography Setup
Dr. Thomas B. Fowler
Sunday, December 12, 2021
7:30 PM to 9:00 PM EST
Online event
Monthly Meeting – Public Invited
Abstract:
Amateur astronomers know too well that using a $400 Tele Vue eyepiece with a $100 telescope would be a waste of money and the capabilities of the Tele Vue. It would work, but for $500 a much better optical train could be assembled.  Similarly, any attempt to get 300x out of a 60mm f//10 telescope using a 4mm eyepiece and a 2x Barlow would be disappointing.  A 25 lb. telescope on a flimsy mount might not collapse the mount, but it would not make for good viewing.  These examples illustrate that in astronomy as elsewhere, for optimum performance and return on investment, it is necessary to use carefully matched equipment. In this talk Dr. Fowler will explain the issues involved in matching optical equipment, astronomy cameras, and mechanical gear to determine optimal performance and the limits to any given astrophotography configuration.
Bio:
Thomas B. Fowler has been involved in astronomy since 1960. He is the author of over one hundred articles, many reviews for Cloudy Nights, and three books, including a book on astronomy equipment and techniques, "The View Through Your Telescope and How to Make it Better" (2020). He has given presentations to the Northern Virginia Astronomy Club and the TriState Astronomers. He is an independent consultant on technology to the U.S. government and Adjunct Professor of Engineering at George Mason University. He has lectured widely on science, technology, and philosophy. His doctorate from George Washington University is in system theory. He also owns 3 telescopes and too much other astronomy equipment to think about! His books can be ordered from Amazon.
Jan
9
Sun
2022
January 9 – Public Monthly Meeting – Two Eyes are Better than One

@ Online via Google Meet
Jan 9 @ 7:30 pm – 9:30 pm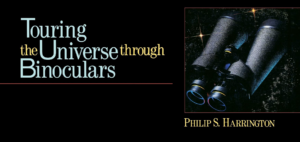 Two Eyes are Better than One
Philip S. Harrington, FRAS
Astronomy Author/Educator
Contributing editor, Astronomy magazine
Sunday, January 9, 2022
7:30 PM to 9:00 PM EST
Online event
Monthly Meeting – Public Invited
Abstract:
Binoculars are NOT just for beginners, as this talk will stress. After various binocular-related terms are defined, Phil Harrington will offer consumer tips to help the audience weed out astronomically worthy binoculars from a vast ocean of models currently available.
Bio:
A lifelong amateur astronomer, Phil Harrington was bitten by the "astronomical bug" when he was assigned to watch the total lunar eclipse of April 1968 as a homework assignment. Since then, Phil has spent countless hours touring the universe through telescopes and binoculars. He is a former staff member of New York City's Hayden Planetarium and instructor at the Vanderbilt Planetarium in Centerport, New York. Phil is an adjunct professor at Suffolk County Community College, Selden, New York, where he teaches courses in stellar and planetary astronomy. He is a founding member of the Westport (CT) Astronomical Society and is also one of the coordinators of the annual Astronomer's Conjunction, held every summer in Northfield, MA. Phil is also a contributing editor for Astronomy magazine, where he has published more than 200 articles since 1988.