5089 Old Tavern Road, The Plains, VA 20198
Telephone: 540-253-5001
Observing Location Coordinates: N 38° 49′ 45.0″ W 77° 48′ 45.4″
Coordinator: Ray Young

Great Meadow Site Events
Check member calendar for dates Great Meadow is closed (off limits to NOVAC)
Click the overhead image below for a larger version, including the current designated observing area circled in yellow.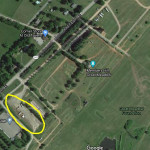 Directions
Via I-66 West from DC — The exit from I-66 is exit 31 (The Plains exit; 9 miles past Haymarket), left turn (head south) onto HW 245 (Old Tavern Road). Go approximately 1.9 miles to the Pass Gate entrance on the left side. The Pass Gate entrance is across the road from where Old Winchester Road intersects Old Tavern Road. If you intersect HW 17 you have gone too far.
Note that all of the numbered gate entrances will be locked. Only the Pass gate at the intersection of Old Tavern RD (Rt. 245) and Old Winchester RD (Rt. 845) is open. The Pass gate entrance is directly across from the Old Tavern Corner Store.
1. After turning into the Pass gate take the first (immediate) right turn.
2. Proceed on the gravel-dirt road to the gravel parking lot where you can set up to observe.
Great Meadow Key Points
1. Access to the observing site is available only on scheduled dates.
2. No camping.
3. Use designated observing area.