Suffering from COVID isolation or cabin fever?   Longing to get out and do something related to your astronomy hobby? Consider a trip to London!  My spouse was headed there for work meetings and I decided to tag along.   Read about my travels and astronomy experiences!

My spouse was headed to London for work meetings and I tagged along feeling the risks of  contracting hospitalized COVID  was low enough given the effectiveness of vaccines in diminishing the effects of COVID and the public transportation protocols for infection protection.Of course London is just as bad as the Washington DC area for observing, but there are a lot of astronomy, navigation and related historical venues to enjoy despite the light pollution.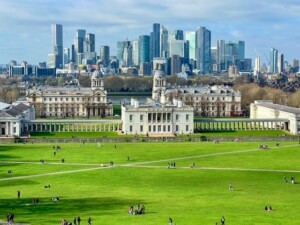 Some of the highlights of our trip captured in pictures were visiting nearby Greenwich where you can straddle the prime meridian with one foot in each hemisphere next to the Royal Observatory.  The skyline view of London, which has substantially changed over the last 20 years is breathtaking from the top of the observatory hill.
Royal Observatory, Greenwich
View of Maritime Museum where the
Harrison Clocks are on display (left)
and Queen's House (center) with the
Thames and London Skyline
You can get to Greenwich using a commuter train from one of several London train stations or taking the subway to the Island Gardens stop on the DLR subway line and walking 5 minutes to the Greenwich Foot Tunnel entrance and taking a 15 minute walk under the Thames River to Greenwich.  The Maritime Museum is a short walk to see the Harrison Clocks used to discover how to determine Longitude at sea and the Observatory is now a museum with lots to see.
The British Science Museum in Kensington is also a fun destination.  I enjoyed checking out the information technology section that has a Control Data 6600 computer on display.  This particular computer came from Bletchley Park and is one of the few remaining examples of this early super computer that was used by NASA, universities and various aerospace companies to design much of the equipment for the space shuttle  and other space programs.
                              
Walking from London to Greenwich using                                                                Where modern global navigation begins
the Greenwich Foot Tunnel under the Thames                                                       at the prime meridian with GMT.
(built in 1901)
                                      
Checking out an example of an early super computer.                                                    One foot in each hemisphere!
used for Space Exploration, the Control Data 6600
in the British Science Museum
If you are interested in the travel details, covid protocols to and from the US and UK and current airline and immigration logistics for our trip send a note to Tommy Domingue, treasurer@novac.com,  asking to join the NOVAC Travel SIG and read the complete trip report.