Becoming a member of NOVAC
Click here to join the Northern Virginia Astronomy Club!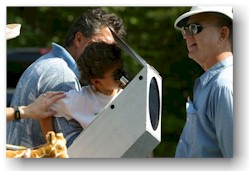 Are you asking yourself why you want to join an astronomy club? Is it to learn the sky, look through different telescopes, find out what others are doing, or stargaze with fellow astronomers? NOVAC is all that and much more! We are a friendly group of amateur astronomers whose motto is "to observe…and to help others observe".
NOVAC is an observers club. Every clear night someone from NOVAC is at one of our observing sites or posting an observation on the e-mail server. We go out and look at it then talk about it.
– We have over 1100 members with the same interest, astronomy. There are members of all types, grandchildren to professional astronomers.
– We use many different telescopes. Hundreds of small and medium telescopes of all types and many large telescopes. Several of our members have reflectors with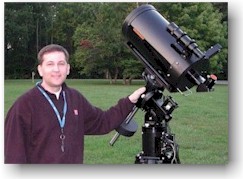 mirror sizes over 20″ and refractors with 6″ apertures.
– There is access to reasonably dark observing sites. We have several agreements with park authorities that allow us to observe on their property. Members often post their intentions on the list server prior to heading out, so you don't have to observe in the dark, alone. Members travel to very dark sites on the East Coast and star parties all over.
– NOVAC members may now observe at a very dark site near Spruce Knob, WV on select weekends near new Moon from April through October. This site is one of the darkest observing sites available on the east coast. If you have never observed from a truly dark site, you are in for a wonderful experience. NOVAC has arranged for several dorm room bunks for members to occupy or they may choose to camp near their telescope. Shower and cooking facilities are also available.
– Use our loaner scopes. We have a Celestron model SP-C6 newt on a Super Polaris German equatorial mount, hand-made 6 inch f/5 reflector on a Dobsonian mount, 6 inch f/8 Meade Dobsonian reflector, Discovery 10″ f/6 Dobsonian, 8″ Celestron SCT, Coronado SolarMax 40 Hydrogen-Alpha filter with 70mm Orion refractor mounted on a equatorial mount, AstroVid 1000 video camera, 10×50, 12×50, 8×40 binoculars, and a laser collimator to lend.
We hold monthly meetings. We meet at the George Mason University on the second Sunday of each month at 7:00 PM (except May). There is opening remarks and announcements, a sky tour and a guest speaker or special program. Don't forget dinner before the meeting at Red, Hot and Blue!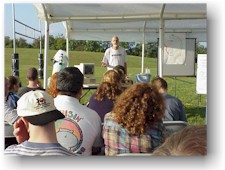 – The Annual Astronomy Day and NOVAC Star Gaze. Presentations and show and tell during the day and pleny of observing at night.
– A great public outreach program. Here is a chance to share with others what you know (or learn while others are being taught).
– An active e-mail list server. Our members discuss all aspects of astronomy and it's a great place to get your questions answered. You can have messages sent directly to you (around 20 a day) or in a daily digest. You can also browse or search them through an archived list on the Internet.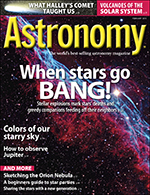 – Being a NOVAC Members qualifies you to get a discount on Astronomy and Sky and Telescope magazine.
– Check out the NOVAC library, we have 1000+ books and reference materials to check out and use at your leisure from our monthly meetings.
– Our Monthly Observing Sessions (MOS) help members observe more often, even while in a severely light polluted area.
– Amateur telescope making. A special interest group formed to help members share ideas about telescope making.
– The NOVAC Mentoring Program matches you up with others that own the same equipment you have or have experience that can help you.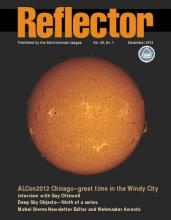 – Membership in the Astronomical League (AL) is included as a part of your NOVAC dues. AL membership benefits include a quarterly magazine ("the Reflector"), and a broad array of AL created themed observing programs ("clubs").
– CCD imagery, Occultation's, solar observing, the Messier marathon, Astronomy Day, Star Gaze, a frequently updated website and more!
Click here to join the Northern Virginia Astronomy Club!
Here are our frequently asked questions but if you have more questions about NOVAC or joining our amazing club please feel free to Contact us!