Public Meeting
12/11/22
1:30 EST
"Tick, tick, tick, pulsating star,
how we wonder what you are"
Read More
NOVAC Public Meeting (11/13/22)
Learn the History and the Art and Craft of Telescope Making
If you missed out, check our YouTube Channel soon!
Read More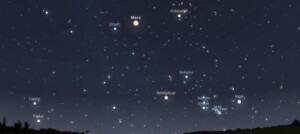 Again this month, the main feature of the night sky are the planets with Mars appearing large in opposition on the 8th and visible all night throughout the month. In fact all five planets visible to the naked eye can be seen. Jupiter remains bright and Saturn is still visible, though is setting ever earlier.