Outreach to the public is an integral part of NOVAC's mission, as reflected in our motto "To Observe…And to Help Others Observe ". Over the years NOVAC club members have provided and facilitated numerous outreach efforts – all on a 100% volunteer basis. These range from our monthly public observing sessions, special events such as Astronomy Day and StarGaze, and private outreach events.
Some examples of private outreach events that have been staffed by volunteer NOVAC club members include:
Observing and educational sessions at elementary and middle schools
Assisting scout troops with the requirements for the Astronomy Belt Loop, Pin, and Badge
Observing and educational sessions at local campgrounds
Judging science fair competitions
Serving as a guest lecturer for high school science and astronomy classes
And many more!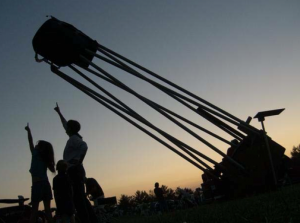 Don't forget that our meetings, generally held at George Mason University on the second Sunday evening of each month (except when that Sunday is Mother's Day), are open to the public.
NOVAC Public Events Calendar