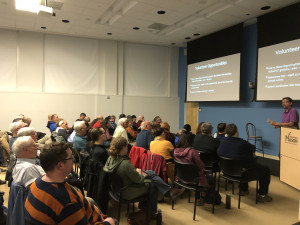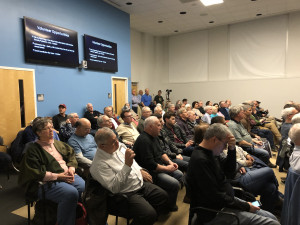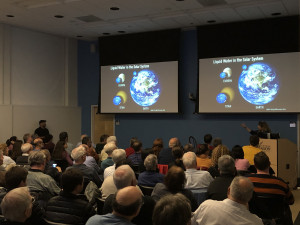 Upcoming Meeting
Sunday, December 13; 7:30 pm to 9:00 pm
Location: Online https://meet.google.com/xtw-gjjx-udg
Speaker: Shawn Dilles & Carl Hergenrother
Title: Association of Lunar & Planetary Observers
The Association of Lunar and Planetary Observers (ALPO) is an international organization devoted to study the Sun, Moon, planets, asteroids, meteors, and comets. The ALOP's goals are to stimulate, coordinate, and generally promote the study of these bodies using methods and instruments that are available within the communities of both amateur and professional astronomers. For the novice observer, the ALPO is a place to learn and to enhance observational techniques. For the advanced amateur astronomer, it is a place where one's work will count. For the professional astronomer, it is a resource where group studies or systematic observing patrols add to the advancement of astronomy. People of all skill and interest levels who are interested in lunar and planetary astronomy are welcome.
The ALPO activities are run and completed on a volunteer basis, and each member can do as much or as little as he or she wishes. Each of the many individual observing sections and programs devoted to the study of various Solar System bodies and phenomena is managed by one or more coordinators. These coordinators collect and study submitted observations, correspond with observers, encourage beginners, and contribute reports to our Journal at appropriate intervals. Each coordinator can supply observing forms and other instructional material to assist in observers at the telescopic. Members are welcome to correspond with the coordinators in whose projects you are interested.
The ALPO collects and analyzes observations of various Solar System bodies and associated phenomena and publishes detailed reports concerning these bodies in its quarterly publication the Journal ALPO, otherwise known as The Strolling Astronomer. Membership in the ALPO includes receiving our Journal.
Shawn Dilles is a NOVAC member, and Assistant Coordinator of the ALPO Publications Sections, and editor of The Strolling Astronomer.
Carl Hergenrother is the Associate Executive Director and member of the ALPO Board of Directors, and coordinator of the comet section
Through the end of 2020 NOVAC meeting are being held online. Meetings start at 7:30 PM, generally on the second Sunday of every month (with the exception of May, when we meet earlier or later to avoid a conflict with Mother's Day).  The first part of the meeting generally includes:
A tour of what is in the sky this month and how to find an observe these things.
An Astronomy Note – a short presentation about a key astronomical concept to help deepen and enrich your knowledge
Observing reports when members can share their stories and experiences viewing or photographing the sky
Q&A, where beginning astronomers are encouraged to ask questions to be answered by more experienced members.
The final part of the meeting is a program, usually by outside experts, but sometimes by one of the members. We've had presenters from all aspects of Astronomy including scientists from NASA and other premier organizations, cosmologists, and photographers.
NOVAC's general meetings are open to club members and the general public alike. We welcome all ages and interest levels!  Children under 18 need to be accompanied by a parent or legal guardian while they are at NOVAC events.