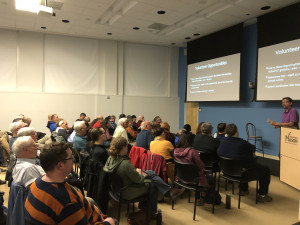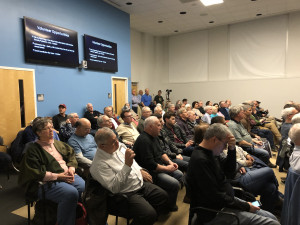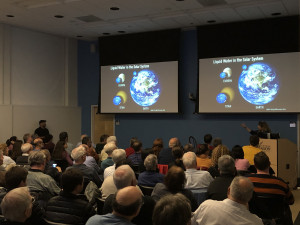 Upcoming Meeting
Sunday, March 8; 7:00 pm to 9:00 pm
Location: Research Hall, Room 163
Speaker: Dr. Elizabeth Hays
Title: Highlights of the sky using gamma-ray eyes
If you could look up at the sky using gamma-ray vision, your set of favorite celestial objects would likely be very different from the stars and galaxies that we know and love to observe by eye. In this lecture, I will conduct an alternative tour of the sky, showing the amazing objects and features that are revealed by gamma-ray telescopes. In some cases, familiar objects like the Milky Way, the Sun, nebulae, and nearby galaxies take on a very different appearance. There are some objects, such as blazars, gamma-ray bursts and certain pulsars, that are bright and dynamic in the gamma-ray band and have only become available for study as we have discovered the high energy behavior. In a few cases, optical and gamma observations share a surprisingly close relationship, providing deeper insights together into the powerful workings of stellar explosions and extremely energetic plasmas.
Dr. Elizabeth Hays is a Research Astrophysicist at NASA's Goddard Space Flight Center. She serves as the project scientist for the Fermi Gamma-ray Space Telescope and the chief of the Astroparticle Physics Laboratory at Goddard. She received her Ph. D. from the University of Maryland, College Park, where she learned how to search for the highest energy gamma-ray objects using a large pond of water in New Mexico. Since that time, she has had the privilege of working with ground-based and space-based gamma-ray telescopes to explore some of the most extreme objects in the Universe.
Meetings start at 7:00 PM, generally on the second Sunday of every month (with the exception of May, when we meet earlier or later to avoid a conflict with Mother's Day). If you come earlier you can do a little socializing. The first part of the meeting includes:
A tour of what is in the sky this month and how to find an observe these things.
An Astronomy Note – a short presentation about a key astronomical concept to help deepen and enrich your knowledge
Observing reports when members can share their stories and experiences viewing or photographing the sky
Q&A, where beginning astronomers are encouraged to ask questions to be answered by more experienced members.
The final part of the meeting is a program, usually by outside experts, but sometimes by one of the members. We've had presenters from all aspects of Astronomy including scientists from NASA and other premier organizations, cosmologists, and photographers.
There's a good deal of socializing before and after meetings, allowing members to put faces with the voices they've heard in the dark.
NOVAC's general meetings are open to club members and the general public alike. We welcome all ages and interest levels!  Children under 18 need to be accompanied by a parent or legal guardian while they are at NOVAC events.
Our meetings are held on the campus of George Mason University (directions) in Fairfax, Virginia. Research Hall is easily identified by the observatory attached to the side of the building. Paid parking is available in the Shenandoah parking structure. Some members have also chosen to park across the street in the far reaches of the Patriot Center's parking lot, then walk up the path to Research Hall.
Whether you're an longtime club member, a new or prospective club member, or simply an interested member of the public, you'll be warmly welcomed at our meetings.
Please Join Us For Dinner!
Meeting attendees (and their guests) are invited to come out for our informal pre-meeting dinner.  The pre-meeting dinner will be held at Brion's Grille located at 10621 Braddock Rd, Fairfax, VA 22032 at 5:30 p.m.  The pre-meeting dinner is an excellent way to meet club members, welcome newcomers, and renew old friendships.
If you'd like to join us, stop by the restaurant at 5:30 PM. See you there!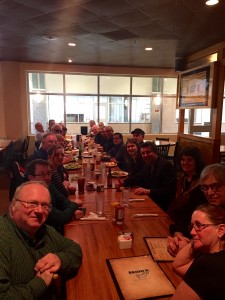 PARKING is available at the Shenandoah parking deck (enter via Sandy Creek Way) for $3/hr, up to a daily maximum of $14. Though the club recommends the use of the paid parking deck, we've also had members report success parking in Lot A (a permit-only lot also associated with the Patriot Center) without trouble on Sunday evenings (tickets are $85, however, so assess your own risk tolerance before considering this option).