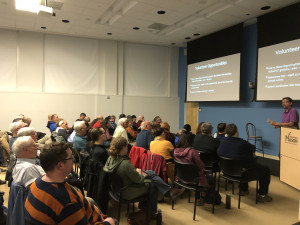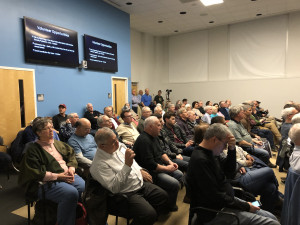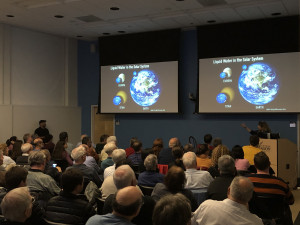 Upcoming Meeting
The Last Stargazers
Dr. Emily Levesque
Sunday, May 2, 2021
7:30 PM to 9:00 PM EST
Online event
meet.google.com/osh-bcyd-gti
Monthly Meeting – Public Invited
Abstract:
A bird that mimicked a black hole. The astronomer that discovered microwave ovens. A telescope that got shot. The science of astronomy is filled with true stories (and tall tales) of the adventures and misadventures that accompany our exploration of the universe. Join Dr. Emily Levesque, author of the new popular science book The Last Stargazers, to take a behind-the-scenes tour of life as a professional astronomer. We'll learn about some of the most powerful telescopes in the world, meet the people who run them, and explore the crucial role of human curiosity in the past, present, and future of scientific discovery.
Bio:
Emily Levesque is an astronomy professor at the University of Washington. Her work explores how the most massive stars in the universe evolve and die. She has observed for upwards of fifty nights on many of the planet's largest telescopes and flown over the Antarctic stratosphere in an experimental aircraft for her research. Her academic accolades include the 2014 Annie Jump Cannon Award, a 2017 Alfred P. Sloan fellowship, a 2019 Cottrell Scholar award, and the 2020 Newton Lacy Pierce Prize. She earned a bachelor's degree in physics from MIT and a PhD in astronomy from the University of Hawaii.
What are NOVAC meetings like?
Currently, all NOVAC meetings are being held online. Meetings start at 7:30 PM, generally on the second Sunday of every month (with the exception of May, when we meet earlier or later to avoid a conflict with Mother's Day).  The first part of the meeting generally includes:
A tour of what is in the sky this month and how to find an observe these things.
An Astronomy Note – a short presentation about a key astronomical concept to help deepen and enrich your knowledge
Observing reports when members can share their stories and experiences viewing or photographing the sky
Q&A, where beginning astronomers are encouraged to ask questions to be answered by more experienced members.
The final part of the meeting is a program, usually by outside experts, but sometimes by one of the members. We've had presenters from all aspects of Astronomy including scientists from NASA and other premier organizations, cosmologists, and photographers.
NOVAC's general meetings are open to club members and the general public alike. We welcome all ages and interest levels!  Children under 18 need to be accompanied by a parent or legal guardian while they are at NOVAC events.
Jun
12
Sun
2022
Public Monthly Meeting – Supermassive Black Holes at the Center of M87 and Milky Way Galaxies: What We Learn
Jun 12 @ 7:30 pm – 9:00 pm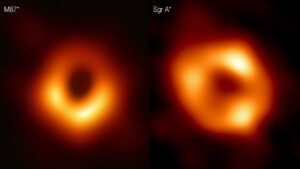 Public Monthly Meeting – Supermassive Black Holes at the Center of M87 and Milky Way: What We Learn
Razieh Emami
, Ph.D.
Sunday, June 12, 2022
7:30 PM to 9:00 PM EST
Online event
Monthly Meeting – Public Invited
Abstract:
The most recent resolved images of Supermassive Black Holes (SMBHs) at the center of M87 (SMBH: M87*) as well as the Milky Way (SMBH: SgrA*) by the Event Horizon Telescope Collaboration (EHTC) has opened up a very promising era of precision (supermassive) Black Hole astrophysics. Thanks to the Event Horizon Telescope, we have now a horizon-resolved image of a few Supermassive Black Holes, as well as some knowledge about the structure of the magnetic field and the accretion flow around some BHs. Inspired by this discoveries, in this talk, Dr. Emami will speak about different aspects of the recently-reported (yet) un-polarized images of SgrA*. She will then continue with the polarized image of M87* and how we could use that to get some novel information about the structure of the magnetic field as well as the accretion flow around M87*. Dr. Emami will end with some of the next questions that scientists would like to address in the Event Horizon Telescope and the next generation of the Event Horizon Telescope (the NGEHT).
Bio:
Razieh Emami is a postdoc at the Center for Astrophysics. She has worked on a variety of different topics, including early universe cosmology, massive neutrinos, gravitational waves, TDES, galaxy evolution and BH physics. As a member of the Event Horizon Telescope (EHT) and its next generation (ngeht), she is currently focused on various topics relevant to the EHT, including black hole imaging, spectral analysis, model fitting and image reconstruction.