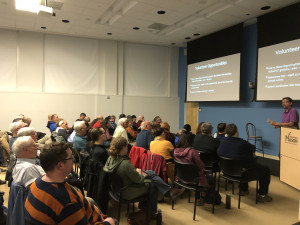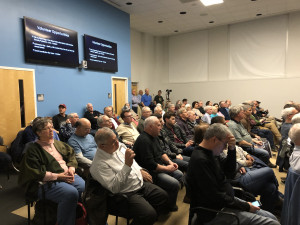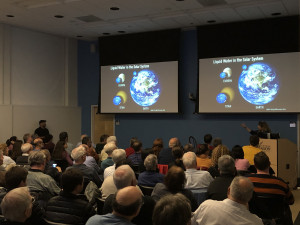 Upcoming Meeting
Sunday, February 9; 7:00 pm to 9:00 pm
Location: Research Hall, Room 163
Speaker: Joe Pesce
Title: The Atacama Large Millimeter/submillimeter Aray (ALMA) and Game-Changing Science
In this talk, we will explore one of the flagship observatories of the National Science Foundation, the Atacama Large Millimeter/submillimeter Array (ALMA). ALMA is the highest altitude observatory, and the most advanced scientific instrument, on Earth. Observing in a previously under-explored region of the electromagnetic spectrum, ALMA is making stunning astrophysical discoveries: From our Solar System to the most distant regions of the universe. We will discuss some of these game-changing observations. Also on tap are some surprising new results about those always-enigmatic objects, black holes.
Joe Pesce is an astrophysicist whose primary area of interest is in the external environments of the galaxies hosting supermassive black holes (to understand black hole formation and fueling). He also worked with clusters of galaxies, and in various areas of stellar astrophysics, including the atmospheres of cool stars (red giants; AGBs), symbiotic variable stars, and supernova progenitors. He has been involved in observations at all wavebands, with ground- and space-based telescopes, and has managed large research groups. Joe previously worked at the Space Telescope Science Institute, and the Pennsylvania State University in State College, PA.
Dr. Pesce is currently a Program Director at the National Science Foundation, Directorate for Mathematical & Physical Sciences, Division of Astronomical Sciences where he is responsible for most of the US Government's ground-based radio astronomy facilities (NRAO, including ALMA, VLA, and VLBA). He is also a Part-time Professor at George Mason University and a Visiting Professor at the University of Colorado, Boulder. He founded, and served as CEO, of several firms specializing in high-level science and technology, critical thinking and problem-solving consulting and education. He has expertise in foreign space programs, space launch, human space flight, emerging space programs, and science policy. He is a thought leader in critical & creative thinking and analytic methodology education, and an expert on STEM, leadership, and research issues.
Joe's other interests include interspecies communication, non-human intelligence, psychology, Sci-Fi (in particular Star Trek!), and all things British. Combining a love of history and art, he conducts arthistory research and collects art, antiquarian books, and antique furniture.
Meetings start at 7:00 PM, generally on the second Sunday of every month (with the exception of May, when we meet earlier or later to avoid a conflict with Mother's Day). If you come earlier you can do a little socializing. The first part of the meeting includes:
A tour of what is in the sky this month and how to find an observe these things.
An Astronomy Note – a short presentation about a key astronomical concept to help deepen and enrich your knowledge
Observing reports when members can share their stories and experiences viewing or photographing the sky
Q&A, where beginning astronomers are encouraged to ask questions to be answered by more experienced members.
The final part of the meeting is a program, usually by outside experts, but sometimes by one of the members. We've had presenters from all aspects of Astronomy including scientists from NASA and other premier organizations, cosmologists, and photographers.
There's a good deal of socializing before and after meetings, allowing members to put faces with the voices they've heard in the dark.
NOVAC's general meetings are open to club members and the general public alike. We welcome all ages and interest levels!  Children under 18 need to be accompanied by a parent or legal guardian while they are at NOVAC events.
Our meetings are held on the campus of George Mason University (directions) in Fairfax, Virginia. Research Hall is easily identified by the observatory attached to the side of the building. Paid parking is available in the Shenandoah parking structure. Some members have also chosen to park across the street in the far reaches of the Patriot Center's parking lot, then walk up the path to Research Hall.
Whether you're an longtime club member, a new or prospective club member, or simply an interested member of the public, you'll be warmly welcomed at our meetings.
Please Join Us For Dinner!
Meeting attendees (and their guests) are invited to come out for our informal pre-meeting dinner.  The pre-meeting dinner will be held at Brion's Grille located at 10621 Braddock Rd, Fairfax, VA 22032 at 5:30 p.m.  The pre-meeting dinner is an excellent way to meet club members, welcome newcomers, and renew old friendships.
If you'd like to join us, stop by the restaurant at 5:30 PM. See you there!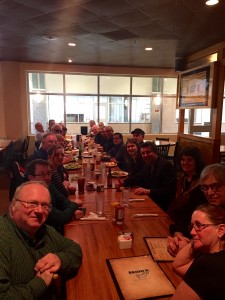 PARKING is available at the Shenandoah parking deck (enter via Sandy Creek Way) for $3/hr, up to a daily maximum of $14. Though the club recommends the use of the paid parking deck, we've also had members report success parking in Lot A (a permit-only lot also associated with the Patriot Center) without trouble on Sunday evenings (tickets are $85, however, so assess your own risk tolerance before considering this option).