A short list of interesting events in the August sky with 'x' and 'v' shapes on the moon, Jovian moon shadows across Jupiter, Saturn at opposition and the Summer Triangle starting to become more easily visible throughout the night. Dates and times based on observing from Alexandria, VA. as predicted using Stellarium.
Thursday, August 4
Lunar X and V around 4 PM EDT (daylight)
https://www.skyatnightmagazine.com/advice/skills/lunar-x-v/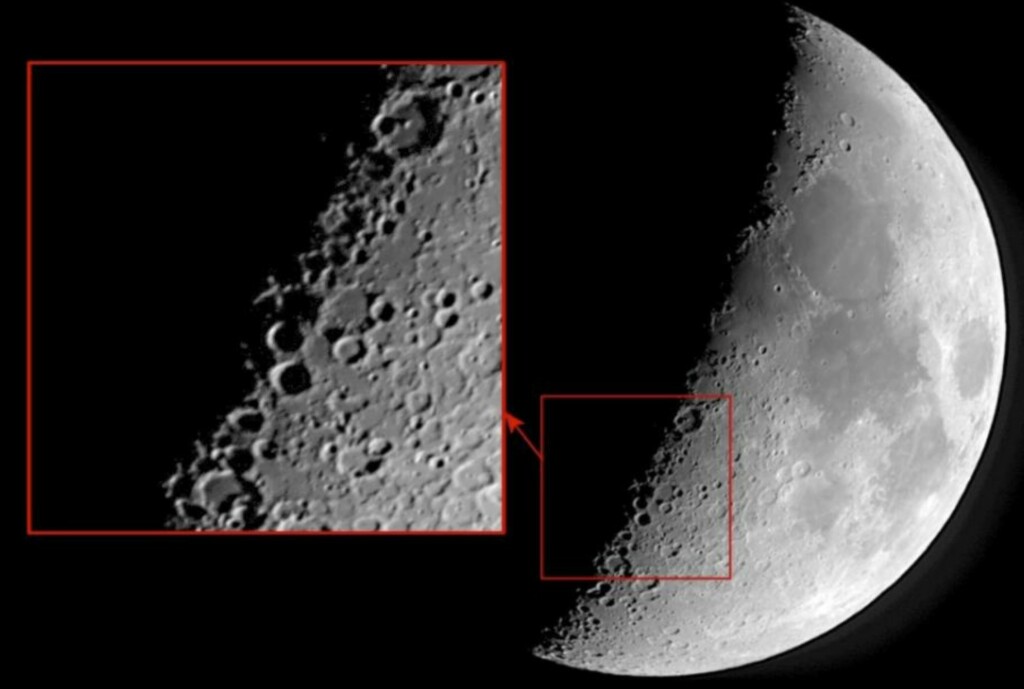 Monday, August 8
Jupiter: shadows of Europa and Ganymede across the surface while rising.
Jupiter rises near the East 10:22 pm – 11 pm EDT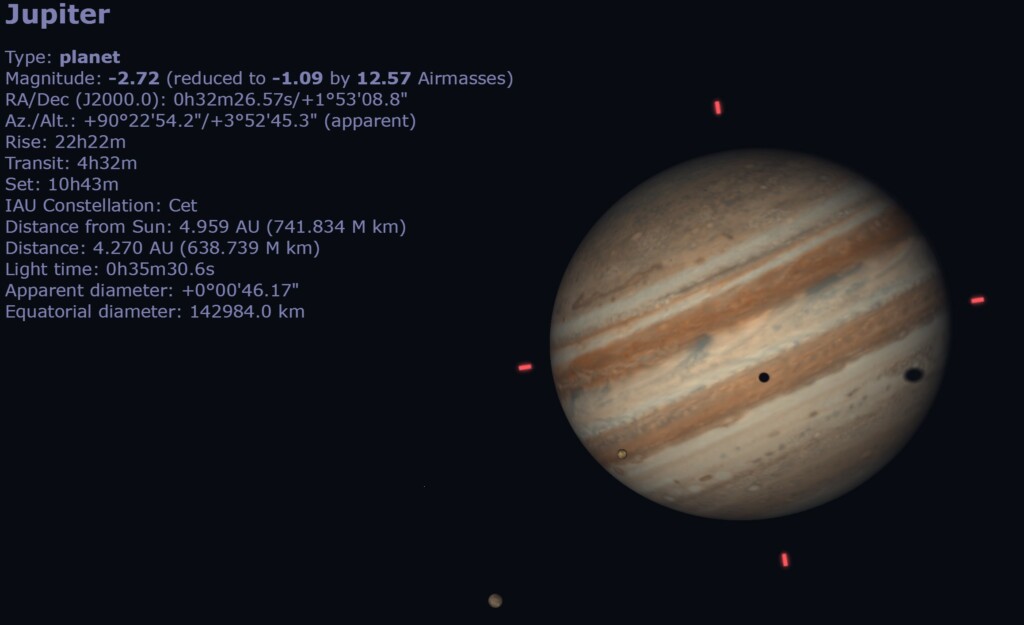 Thursday, August 11
Saturn and the full moon circle each other starting with the moon rising around 8:30 pm EDT
Friday, August 12
Perseids Meteor Shower Peak (overshadowed by the full moon)
August 11/12
Full Moon
Sunday, August 14
Moon circles close Jupiter rising just after 10 pm
Sunday, August 14
Saturn is in opposition (visible all night)
Monday, August 16
Great Red Spot and two moon shadows across Jupiter starting 12:26 am EDT and ending about 1:35 am EDT.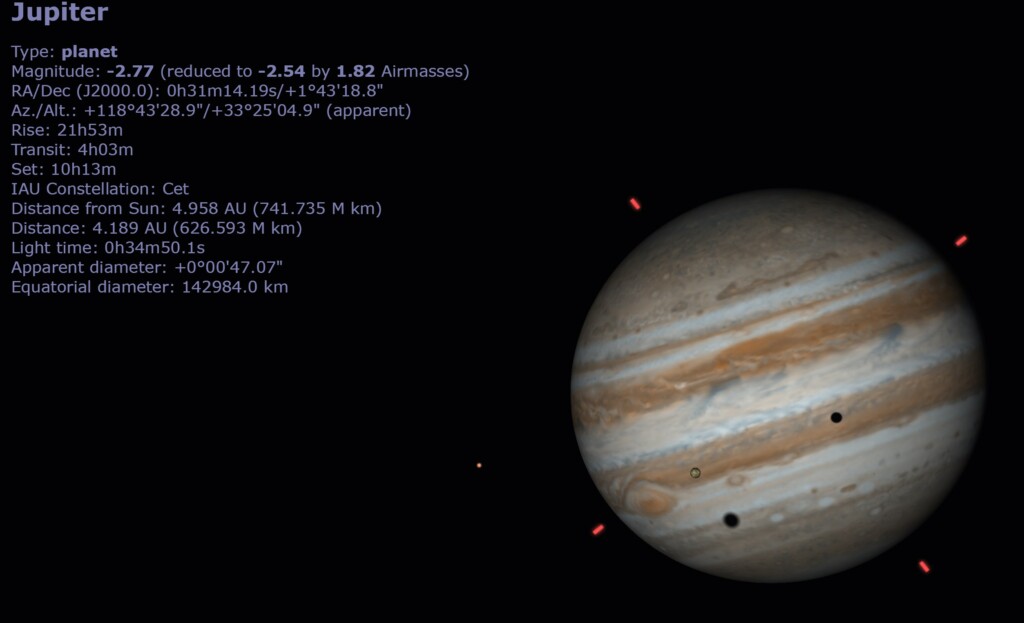 Thursday, August 19th
Moon Mars and the Pleiades/Seven Sisters rising around 12:15 am and lasting throughout the night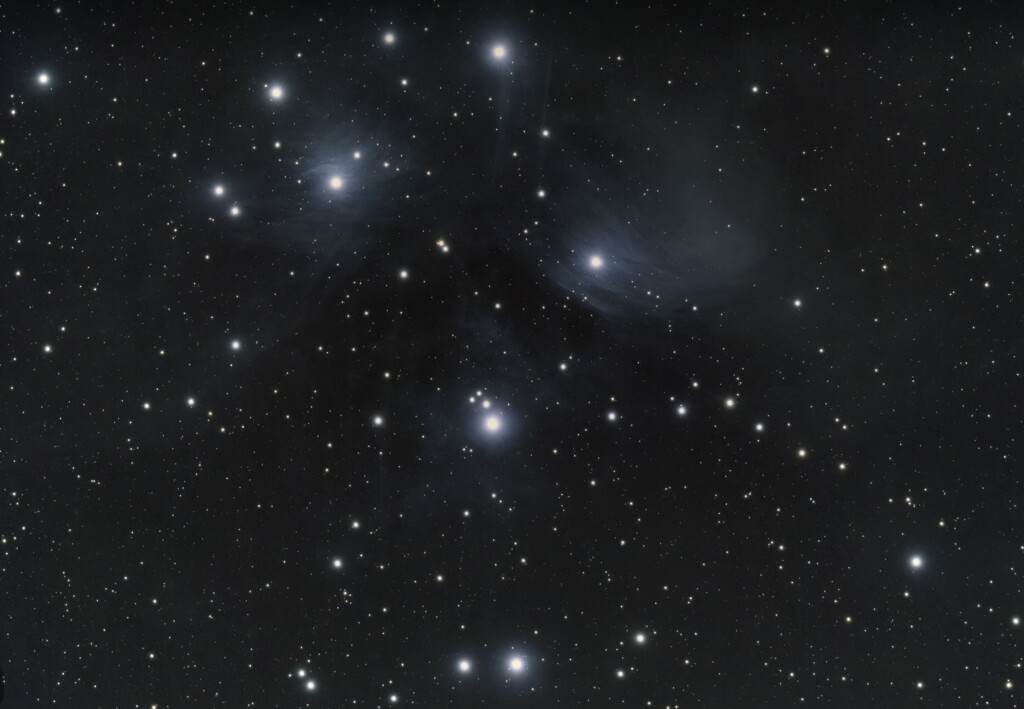 Saturday, August 27
New Moon
Planets
Mars – Rises August 5th at 12:31 am, rises at midnight by August 20
Jupiter – Rises August 4th at 10:59 pm
Saturn – Rises August 4th at 8:42 pm
Uranus – Rises August 5th at 12:19 am
Neptune – Rises August 4th at 10:04 pm
Deep Sky Objects
M11 (Wild Duck) – Open cluster
M22 – Globular cluster
M31 (Andromeda) Galaxy