When:
October 10, 2021 @ 7:30 pm – 9:30 pm
2021-10-10T19:30:00-04:00
2021-10-10T21:30:00-04:00
Where:
Online via Google Meet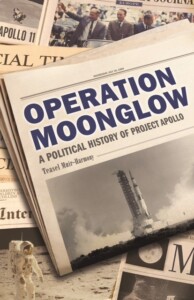 Operation Moonglow: A Political History of Project Apollo
Dr. Teasel Muir-Harmony, PhD
Sunday, October 10, 2021
7:30 PM to 9:00 PM EST
Online event
Monthly Meeting – Public Invited
Abstract:
On July 20th, 1969, over half the world's population witnessed Neil Armstrong's first step on the Moon. While often remembered as a scientific and technological feat, the ambitions of the Apollo program aimed far beyond the Moon. Through spaceflight, America sought to win hearts and minds, foster alliances, and shape the political trajectories of newly independent nations. Drawing on a rich array of untapped archives and firsthand interviews, Operation Moonglow knits together a story of politics and propaganda; diplomacy and spaceflight; decolonization and globalization to reveal the political forces that not only sent humans to the Moon but also attracted the largest audience in history.
Bio:
Dr. Teasel Muir-Harmony is the curator of the Apollo Collection at the Smithsonian National Air and Space Museum in Washington, DC. She earned a PhD from MIT and has held positions at the American Institute of Physics and the Adler Planetarium and Science Museum. She is the author of Operation Moonglow: A Political History of Project Apollo (2020) and Apollo to the Moon: A History in 50 Objects (2018), and a contributor to the television series Apollo's Moon Shot. In addition, Muir-Harmony co-organizes the Space Policy & History Forum and teaches at Georgetown University.