When:
March 13, 2022 @ 7:30 pm – 9:00 pm
2022-03-13T19:30:00-04:00
2022-03-13T21:00:00-04:00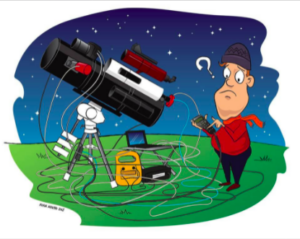 Improving the Performance of Your Imaging Mount 
Eric Snow, Ph.D.
Sunday, March 13, 2022
7:30 PM to 9:00 PM EST
Online event
Monthly Meeting – Public Invited
Abstract:
In this presentation, Eric will share his experience on improving the performance of equatorial mounts, a critical and expensive component of astrophotography systems.  He will start with the basics of operation and cover the common sources of tracking errors found in lower- to moderately-priced systems.  Eric will then present a strategy to minimize these errors by using "hypertuning" and optimized guiding.  The presentation will serve as a "How-To" guide for achieving atmospheric-seeing-limited imaging performance with less expensive mounts.
Bio:
Dr. Eric Snow recently retired from a 35-year scientific career at the Naval Research Laboratory where he served as the Director of the Institute for Nanoscience and as Head of the Physics of Electronic Materials Branch.  Eric's field of expertise is Nanoscience, which is the study and engineering of matter at the nanometer length scale.  In retirement Eric has changed course and is learning about the universe at the opposite end of the length scale, the scale of light-years.  In this pursuit Eric joined NOVAC and has taken up the hobby of astrophotography.