George Mason University (GMU) played host to over 200 visitors during their Mason by Moonlight event on 16 October 2021.
NOVAC was pleased to support the GMU Astronomy Department to help showcase the Moon, Jupiter and Saturn by offering nice telescope views from just outside the astronomy department on the university campus. Students representing GMU's Friends of the Observatory (FOTO) were on hand to showcase the university's observatory and 32" telescope and as well as provide a unique guest experience using their transportable planetarium. Thanks to NOVAC members Christopher Spain, Karna Desai, Tom Leaton, David Coren, and Dan Pechkis for helping setup and showcase NOVAC to all the visitors. Timely coincidence – it was also NASA's "International Observe the Moon" night, so good way to leverage that outreach activity as well. Nice job by GMU's 'Friends of the Observatory' members: Jonathon, M, Kevin, Aiden, Andrew, Ian, and Kevin. Special thanks to Drs. Peter Plavchan and Robert Parks for inviting NOVAC to participate in their special campus-wide event. Looking forward to the next GMU outreach event!
Karna Desai and family, and David Coren and Dan Pechkis in the way back!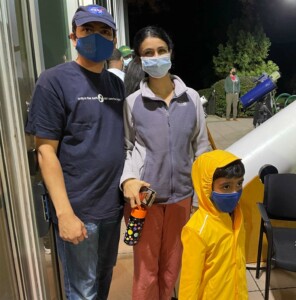 Christopher Spain configuring his C8