10066 Rogues Road (Rt. 602) Midland, VA, 22728
Phone: 540-788-4867
Observing Field coordinates: 38.38′.2″N -77.43′.15″W
Latitude: +38.634004 Longitude -77.721107 Elevation: 330 ft
Coordinator: Laird Taylor – lairdtaylor@mac.com
NOVAC welcomes everyone to come out to our public events and enjoy the night sky. You do not need to be a member of the club or own any astronomical equipment to attend. All you need is an interest in the wonders of the cosmos.
C.M. Crockett Park in Fauquier County, Virginia offers an excellent place to stargaze for the beginner or the advanced. Depending on the time of year, expect to see constellations, planets, star clusters, galaxies, nebula, and possibly a few meteors and satellites. Volunteers (and guests, if they wish) bring a variety of telescopes and binoculars.
NOVAC Member only events are posted on the NOVAC Members Calendar (membership required).
Directions
Crockett Park is about 20 miles south of Manassas at 10066 Rogues Road (Rt. 602), Midland, VA, 22728. The telephone is 540-788-4867.
From Washington DC/Northern Virginia, go west on I-66 to Exit 43A, US 29 (Lee Highway) toward Gainesville/Warrenton. Follow US 29 11.6 miles approaching Warrenton Stay to the left at the US15/US29 junction to Culpeper/Fredricksburg . Go 1.3 miles past this interchange, exiting onto Meetze Road (643). At Meetze Road, turn left (south) and go 7.5 miles to Rogues Road. There is a sign indicating Crockett Park. Turn right, go a half mile, and you are at CM Crockett Regional Park. The observing area is adjacent to the parking lot to your immediate left as you pass through the park entry gate.
Alternate directions: go west on I-66 to exit 44 (234 South bypass around Manassas). Take 234 bypass approximately 3 miles to Rt. 28 West. Stay on Route 28 for about 13.7 miles through Nokesville, Catlett, and Calverton. Turn right on Rt. 643 (Meetze Rd.) towards Warrenton (Mayhugh's country store is on the corner) Go on about a mile up Rt. 643 to the park entrance road (Rogues Rd.) on the left. Look for a small sign directing you to CM Crockett Park. Once on the park entrance road, go one-half mile to the park gate.
After arriving at the main gate, take the first left into the gravel parking lot. There should be some telescopes setup in the nearby field. Please dim your headlights if you are arriving after dark and please do not drive onto the field.
General Information
Preparation begins before leaving home. Dress warmly! Summer nights can still become cold. Please check the weather forecast. For lighting, cover a flashlight in red cellophane (the darker the better). Bring along water to keep hydrated and plan on staying the entire evening or as long as the weather allows. Please dim your vehicles headlights when arriving and departing.
Feel free to walk around and enjoy the sights through the equipment on display but please ask the owner before using. It's best to control children around expensive astronomical equipment. Remember, telescope mirrors are sensitive to cigarette smoke and bug spray. Pets should not be brought onto the observing field.
Crockett has reasonably dark skies, with a limiting magnitude around 5 most nights. It has excellent horizons (Omega Centauri has been observed from Crockett on several occasions), with relatively little light pollution to the south and west. To the north, Manassas is the biggest offender, while to the east an airport beacon can be annoying.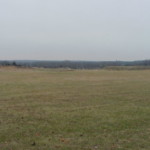 Crockett Horizons
In addition to its virtues as an observing site, Crockett is a nice place to visit during the day. The lake offers fishing and boating (rentals available), and there are several playgrounds for children, as well as picnic pavilions and volleyball courts.