NOVAC member Elizabeth McGovern Assink provides a glimpse into her experience at the Almost Heaven Star Party (AHSP) through sketching. What a great way to tell a personal story about this year's AHSP at the Spruce Knob Mountain Center in West Virginia. Read her story here and improve your sketching skills too!
NOVAC AHSP 2022 – Beginner astro sketching at Spruce Knob, by: Elizabeth McGovern Assink (eamcgovern@gmail.com)
I just came back from my first NOVAC Almost Heaven Star Party in WVa. My husband Marcel and I started with NOVAC a year or so ago with the class taught by Dr. Alan Goldberg – jump forward with a new 'scope', very large tent, red lights (which my Dutch husband made lots of funny comments about the red light district in Amsterdam) and random camping equipment. Here we were watching the introductory videos to prepare for our first vacation together since the pandemic – a trip to the Spruce Knob area to attend the Almost Heaven Star Party.
The last introductory/prep video we saw a day before we left was a panel on astro sketching. I found that very interesting and realized that I had the 'equipment' and didn't need to buy anything new. "Hey Marcel – I can do that!" I stuffed some colored pencils, a sharpener, eraser and a black paper notebook (which I had bought from a craft store years ago) into the small space left in our bright white Ford Escape (which I fretted would glow at night and get us thrown out).
Here's a link to the video panel on sketching at the telescope with Cindy Krach, Bob Bunge, & Dan Ward. This is what inspired me!
https://www.youtube.com/watch?v=qH46aFBUQKE
To start in the afternoon, I pulled out a jar lid that was about 2 inches wide (the video said don't do more than 3") and drew a few circles to prepare – but not too many. There were several other messages from the video that I remembered that are reflected in the drawings that I did that I thought I would share: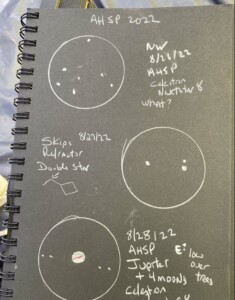 1) Anyone can do it; no drawing experience necessary
I remember one of the panelists just drawing dots to represent stars by twisting the pencil. They said you look in the scope, make a mental note then draw it in a circle. They also said to think of the view in quadrants and that would help. They were right. That did help and gave me the confidence to try.
2) Don't just draw, make notes of what is going on around you.
Someone on the video said that you should makes notes of what is going on around you. When I did my first astro sketch, which was of Saturn, there were lots of fox (coyote?) howling in the night. It was quite lovely and haunting. I captured those thoughts and also recorded the direction heard – I think it was East and where we were, dates, etc.
3) You can do it later and you don't need to draw all the stars
Some drawings I did during daylight. The first one was Antares which I was very excited about as I saw it the night before with my own eyes flicker and then viewed in my scope. Remember I am new to all this, so it was a first for me. I didn't record any other stars (though the ones flanking it I would have included, but they were not seen through the scope at the same time). The panelists wisely reminded you to not worry about capturing it all.
I also was pointed by a friendly participant during the afternoon toward Dan Ward in the yellow field to look through his solar filters at the Sun. Also, a first! Very exciting and I learned the word 'prominence' and what a 'sword prominence' was as well – I drew this later that afternoon and am now determined to save up for solar filters. I realized that Dan was Dan Ward, one of the inspiring panelists in the astro sketching video!
4. You will remember things better – but not important to know what it is –
The video said you would remember things better- that is correct! I do remember all these more than what I just looked at – what I would add, is you just need to be interested in it – I don't know what these were, but they were cool looking. Enjoy the moment!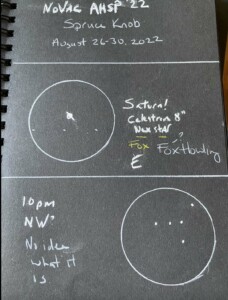 5. No need to be perfect; enjoy the process
I liked the sentiment that you don't need to be perfect. I am certainly not, and enjoyed trying astro sketching out. I laugh at these being yellow. I had my newly bought red headlamp on and apparently picked the wrong pencil color. I didn't even realize that till the next day. Doesn't matter – I had a great time!
Thanks NOVAC for a great time!
-Elizabeth